We are delighted to announce that Irish game designer Mark Corrigan has agreed to run a demo of his 1920s Call of Cthulhu scenario "No Silver Linings" at Gaelcon on Sunday 10am – 1pm.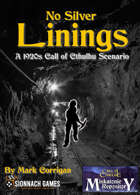 The setup for this scenario is as follows:
During the cold, wet October of 1919; an ill wind blows through the Silvermines, a small rural mining village in Co. Tipperary, Ireland, when the investigators are called to investigate a bleak discovery. A body is found under circumstances that have the authorities baffled. As the investigators delve into the mystery, can facts be discerned from fiction where local folklore, conspiracy theories and paranoia are in between the lines?
The scenario is available on Drivethru RPG.